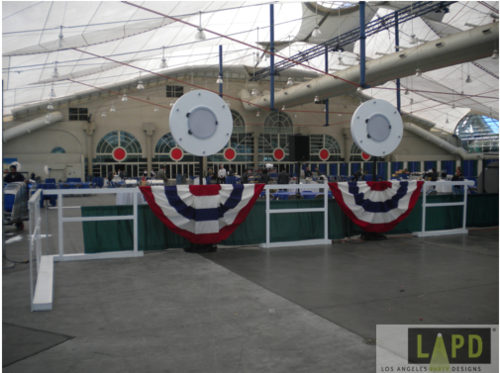 San Diego California recently built a brand new convention center centrally located right on the water in the heart of downtown San Diego. This convention center prides itself on their newly green tactics and sustainable measures, they are among the first large facilities to adopt these green ideas and they are highly regarded for it. We had the pleasure of doing an event in their Sail Pavilion Room earlier this year. The gaping windows made of frosted glass and the metal support structure creates a grand, yet modern space. Our task was to make this space, that had the potential to accommodate thousands of people, feel as if it was made for only hundreds.
A quick solution for this overwhelming problem on a limited budget required a simple solution. In order to create a cozier, less overwhelming space of this sizable area for this nautical themed event, we altered the placement of the entry to make the space look smaller. We did this by floating round portholes from the ground around the entrance of the event to give the attendees the feeling that they were on a ship. Creating a pseudo perimeter surrounding the event by putting up American bunting over a rustic fence helped create a comfortable feeling as well. We also created a space for a photo area by using a backdrop screen and 3 dimensional objects, such as a ship steering wheel, to eliminate the large space between the screen and the camera.
We are in the business of creating illusion and there are many ways we can do this by using creative solutions. The use of three-dimensional objects really created a much more "realistic" feeling for the event and helped to define space overall. The location of the convention center looking right out over the San Diego Bay complemented the nautical theme and helped us achieve success in portraying the vibe our client wanted.